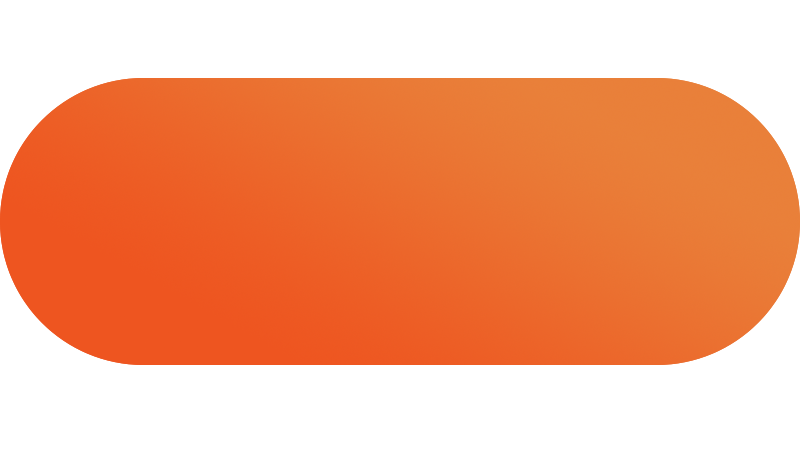 About Our Warm Hub Products
As a brand that strives daily to create an integrated lifestyle, design remarkable gadgets, and work to make it better, Jisulife launched warm hub products to offer warm care last winter. These products are 2-in1 HandWarmer & PowerBank, Wireless NeckWarmer, and more. Besides, we gathered 30 insiders globally to test these products and share their experiences. Now, let's take a look at some reviews from these testers.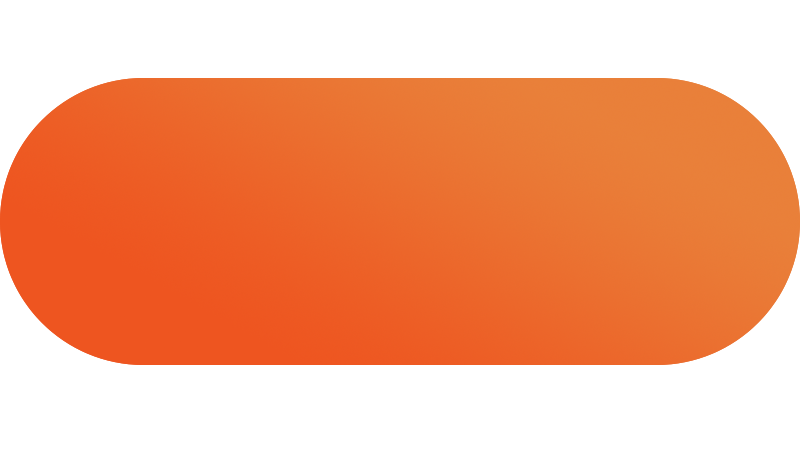 This product is not only a mini heater on the go, but also be a reassuring backup battery charger with 9000mAh of power. It can be used when going camping, climbing, dog-walking and more.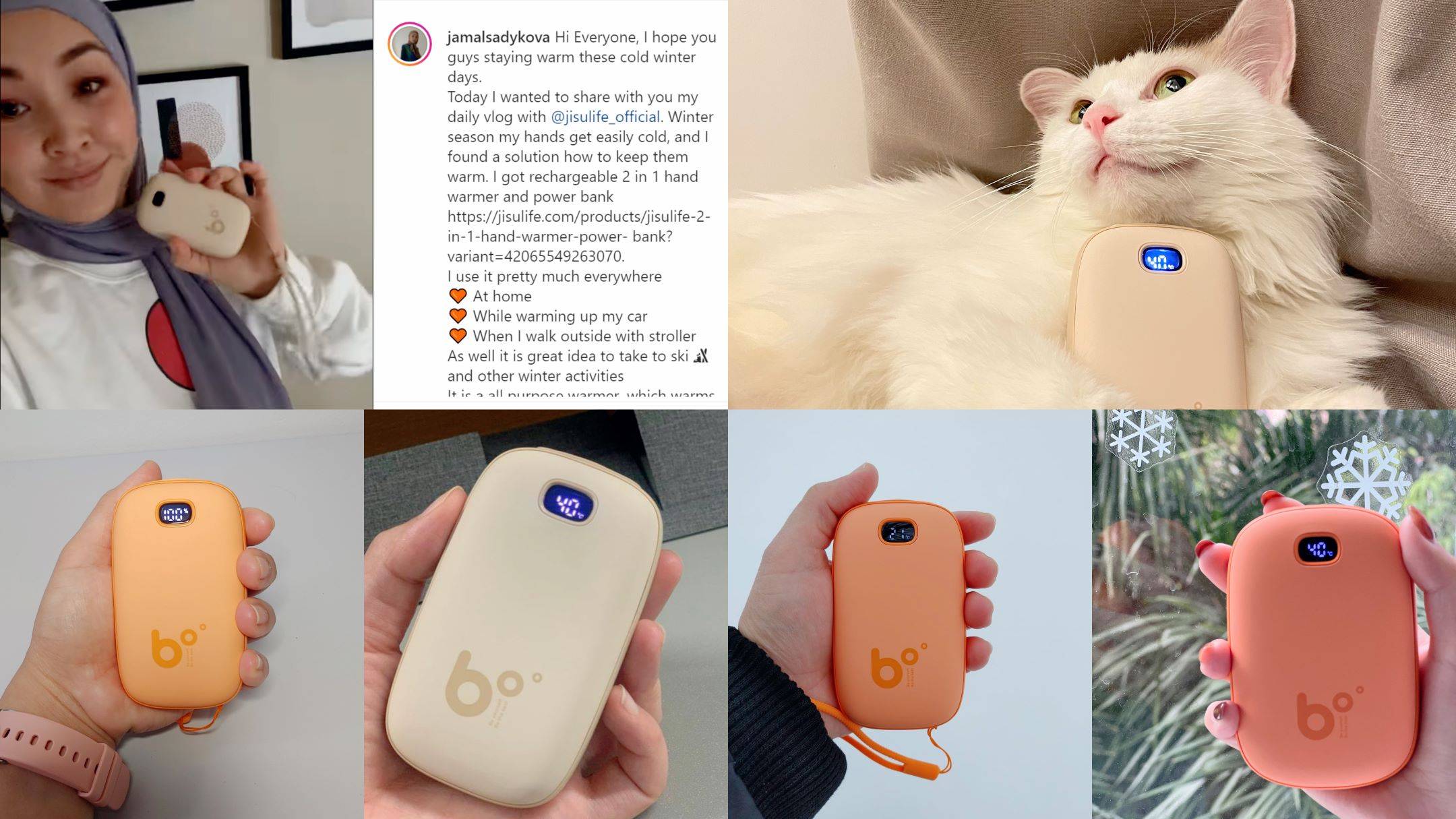 Hi Everyone, I hope you guys staying warm these cold winter days.

Winter season my hands get easily cold, and I found a solution how to keep them warm. I got rechargeable 2 in 1 hand warmer and power bank.
I use it pretty much everywhere:
When I walk outside with stroller
As well it is great idea to take to ski ⛷ and other winter activities
It is a all purpose warmer, which warms up in 3 sec. Super comfortable to carry it with you and super cute designed product:)
I love it and badlly need it.So smooth hold the weight is just perfect. Gets perfectly hot - really warms up hands and it is helpful for sore muscles. Also great that it doubles as a phone battery backup! Really smart design.
It warm up pretty fast. Great for this weather. I had gotten this hand warmer for my mom because her hands get cold super easily. She loves it. She takes it everywhere with her. And during the snowstorm that hit Texas and several other states, the hand warmer came in handy when I had to work outside for my fast food job. I really recommend it! It's also nice that you're able to charge your devices. Although my mom doesn't use the charging option very often, it's reassuring to know that her phone won't die in case there's an emergency.
My office is so cold and my hands always feel like icicles so this hand warmer has been fantastic so far. I promise you this device emits so much heat and for so long that it is incredible. Kept my hands warm every morning and chilly evening!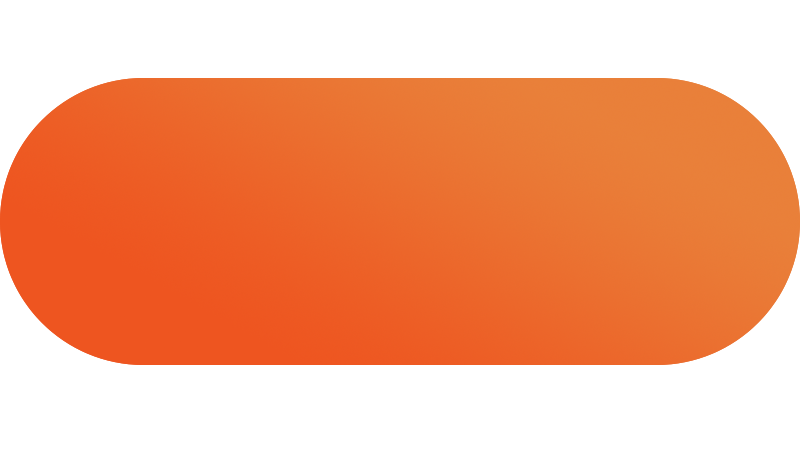 This neckwamer is actually a portable warm massage therapists anywhere, be helpful for relieving from neck pain/headache. The all-around warmth with 360℃ heating pad and huge charging capability (with 9000mAh) can offer 8hrs warmth.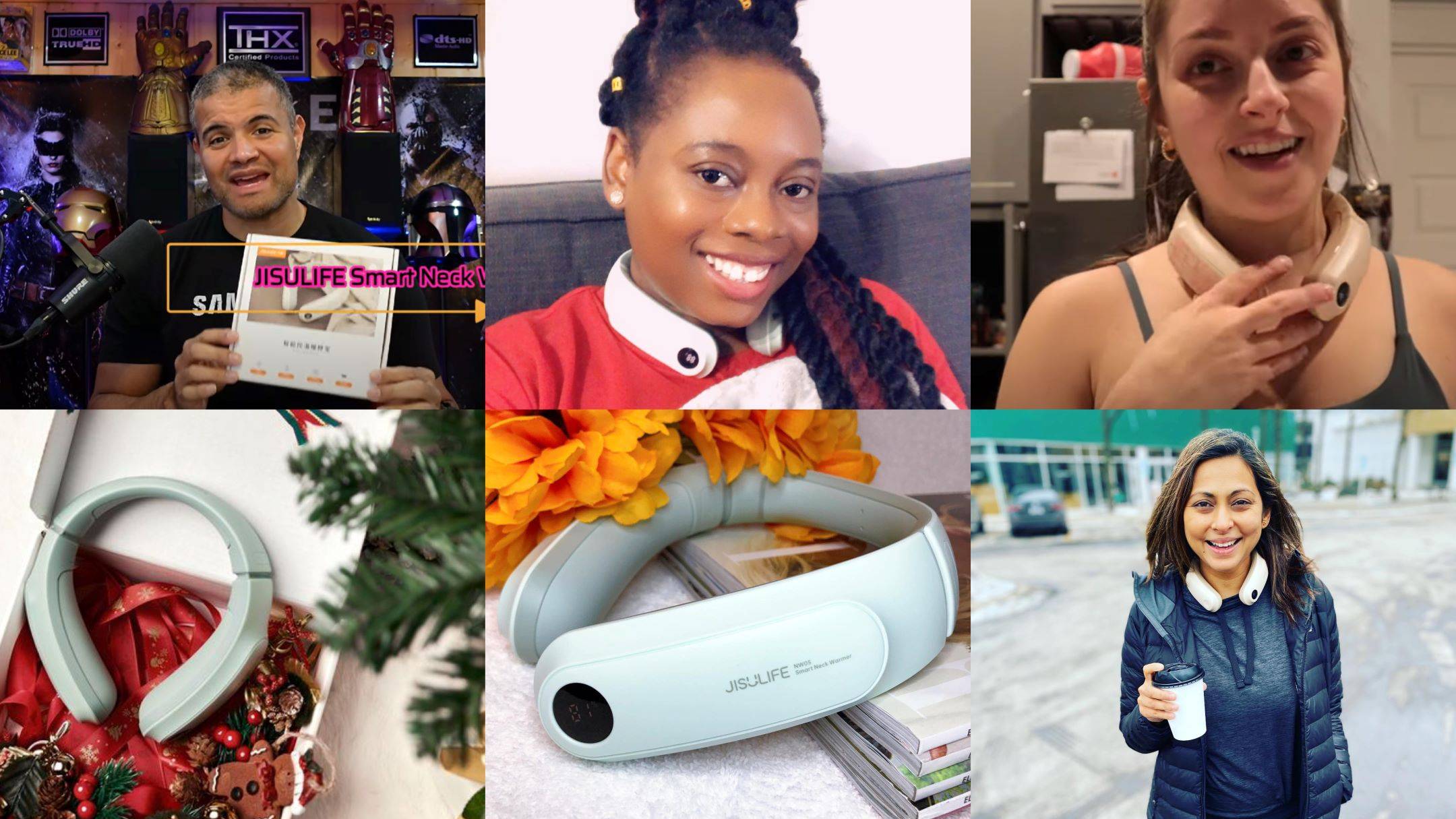 Thanks @jisulife_official for sending me this Wireless Neck Warmer🥰 This is my first time trying a neck warmer and I'm in love❤️! It's been very cold here in Calgary, so this has become my best friend.
I love that it is portable, easy to use and lightweight. I wear it both inside and outside. It not only keeps me warm, but the heat helps to relieve neck pain👏.
4 temperature settings: 40°C, 45°C, 50°C & 55°C
It's very easy to use. Press the button to the right to change the temperature. The selected temperature will display on the small screen on the left. Each temperature lasts for 15 minutes, then it automatically defaults back to the lowest temperature to prevent burn. After the temperature is selected the display changes back after 15 seconds to show the battery status.
This is by far my most useful winter accessory!
You can't carry your blanket around everywhere you go BUT you can wear @jisulife_official's wireless neck warmer and make sure you're always warm.
What a Great way to beat the cold!
Lasts up to 8 hours after a full charge

Smart temperature settings

Helps reduce neck pain and tightness

Warmth radiates to the whole body
They have so many other unique and creative gadgets to help elevate your life.
It's a genius product. I have been complaining the weather too cold.This is nice and really warm.I usually use it when working and driving.The heat, I can feel it through my body.
It's a great product that can suite life. It does feel nice having some heat around the back of your neck and your shoulder area.It's very very relaxing. I can see myself, you know, on the computer, or gaming, or even just watching TV. With this on, completely relaxing. Relax the muscles, relieve the stress a lit bit. Just feel nice, that's great.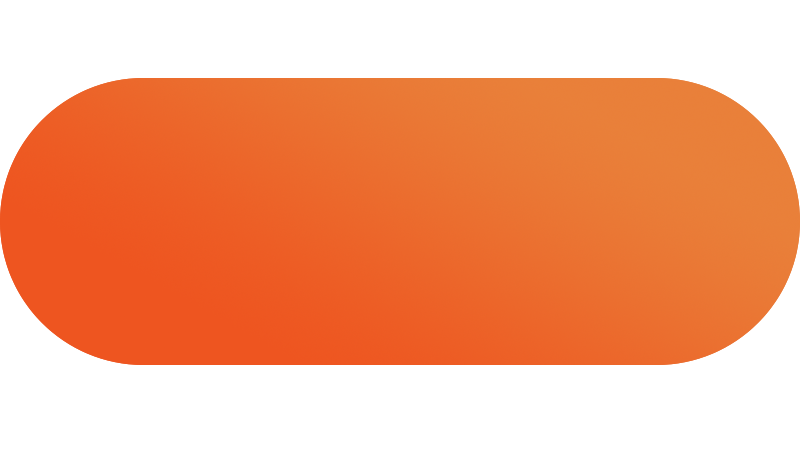 Thanks to these testers for sharing their reviews and experience with us. These are helpful for customers better understand the products and can help our brand to create better products. We will be committed to creating more considerate products for customers. If you also want to join our insider testing program to experience the new products, you can click here to submit your application. In addition, if you want to know more about our products, you can click this product collection page to discover more interesting products.